April 2019 Releases I Am Excited For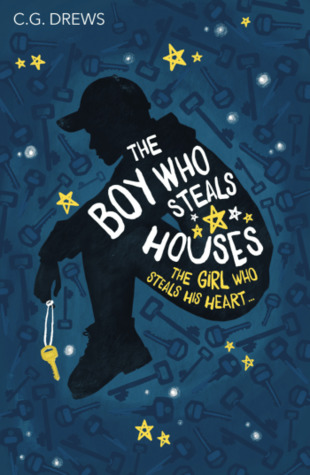 Happy Monday my lovely readers! I hope you are all having a great start to a new week. I now have two weeks off for Easter Holidays (perks of working in a school) and I aim to enjoy them and just relax.
Anyway, today I thought I would share some April 2019 releases that I am very excited to read.
What books are you looking forward to reading this month?
Viper by Bex Hogan
Marianne has been training to be the Viper for her entire life - to serve and protect the King and the citizens of The Twelve Isles - but to become the Viper and protect the islands she loves she must find the strength to defeat her father. A new fantasy trilogy perfect for fans of Sarah J Maas.
The Boy Who Steals Houses by C.G. Drews
Sam is only fifteen but he and his autistic older brother, Avery, have been abandoned by every relative he's ever known. Now Sam's trying to build a new life for them. He survives by breaking into empty houses when their owners are away, until one day he's caught out when a family returns home. To his amazement this large, chaotic family takes him under their wing - each teenager assuming Sam is a friend of another sibling. Sam finds himself inextricably caught up in their life, and falling for the beautiful Moxie.
But Sam has a secret, and his past is about to catch up with him.
Dear Ally, How Do I Write a Book by Ally Carter
Always wanted to write? Not sure how to begin, or what to do with tricky characters or pesky plotlines? Ask Ally! Ally Carter is the internationally bestselling author of Gallagher Girls, Embassy Row and Heist Society. Known for her gripping plots and adventures that combine danger and glamour in equal measure, Ally knows how to write brilliant books for teen and YA readers. Now Ally and her author friends want to help YOU write the book you've always dreamed of. Part agony aunt, part writing guru, this writing guide is thoughtful, witty and best of all, useful.
We Are Blood and Thunder by Kesia Lupo
In a sealed-off city, it begins with a hunt. A young woman, Lena, running for her life, convicted of being a mage and sentenced to death. Her only way to survive is to trust those she has been brought up to fear - those with magic.
On the other side of the locked gates is a masked lady, Constance, determined to find a way back in. She knows only too well how the people of Duke's Forest loathe magic. Years ago she escaped before her powers were discovered. But now she won't hide who she is any longer.
A powerful and terrifying storm cloud unites them. It descends over the dukedom and devastates much in its wake. But this is more than a thunderstorm. This is a spell, and the truth behind why it has been cast is more sinister than anyone can imagine ... Only Lena and Constance hold the key to destroying the spell. Though neither of them realise it, they need each other. They are the blood and they have the thunder within
Music and Malice in Hurricane Town by Alex Bell
Jude Lomax scrapes a living playing the trumpet on the neon streets of Baton Noir. Then she is invited to play at the funeral of the infamous cajou queen, Ivory Monette. Passing through the cemetery gates, Jude finds herself possessed by the murdered queen's spirit. And Ivory won't rest until she's found the person responsible for her death.
If Jude wants to be rid of the vengeful spirit, she must take a journey deep into the dangerous underbelly of the city, from the swampy depths of the Black Bayou to the velvet opulence of the vampires' secret jazz clubs. But as Jude untangles Ivory's web of secrets, she is confronted with a few dark truths from her own past…
Opposite of Always by Justin A. Reynolds
Jack Ellison King. King of Almost.
He almost made valedictorian.
He almost made varsity.
He almost got the girl . . .
When Jack and Kate meet at a party, bonding until sunrise over their mutual love of Froot Loops and their favorite flicks, Jack knows he's falling—hard. Soon she's meeting his best friends, Jillian and Franny, and Kate wins them over as easily as she did Jack. Jack's curse of almost is finally over.
But this love story is . . . complicated. It is an almost happily ever after. Because Kate dies. And their story should end there. Yet Kate's death sends Jack back to the beginning, the moment they first meet, and Kate's there again. Beautiful, radiant Kate. Healthy, happy, and charming as ever. Jack isn't sure if he's losing his mind. Still, if he has a chance to prevent Kate's death, he'll take it. Even if that means believing in time travel. However, Jack will learn that his actions are not without consequences. And when one choice turns deadly for someone else close to him, he has to figure out what he's willing to do—and let go—to save the people he loves.
The Devouring Gray by Christine Lynn Herman
On the edge of town a beast haunts the woods, trapped in the Gray, its bonds loosening…
Uprooted from the city, Violet Saunders doesn't have much hope of fitting in at her new school in Four Paths, a town almost buried in the woodlands of rural New York. The fact that she's descended from one of the town's founders doesn't help much, either—her new neighbours treat her with distant respect, and something very like fear. When she meets Justin, May, Isaac, and Harper, all children of founder families, and sees the otherworldly destruction they can wreak, she starts to wonder if the townsfolk are right to be afraid.
When bodies start to appear in the woods, the locals become downright hostile. Can the teenagers solve the mystery of Four Paths, and their own part in it, before another calamity strikes?
Summer Bird Blue by Akemi Dawn Bowman
Rumi Seto spends a lot of time worrying she doesn't have the answers to everything. What to eat, where to go, whom to love. But there is one thing she is absolutely sure of—she wants to spend the rest of her life writing music with her younger sister, Lea.
Then Lea dies in a car accident, and her mother sends her away to live with her aunt in Hawaii while she deals with her own grief. Now thousands of miles from home, Rumi struggles to navigate the loss of her sister, being abandoned by her mother, and the absence of music in her life. With the help of the "boys next door"—a teenage surfer named Kai, who smiles too much and doesn't take anything seriously, and an eighty-year-old named George Watanabe, who succumbed to his own grief years ago—Rumi attempts to find her way back to her music, to write the song she and Lea never had the chance to finish.